Upcoming Exhibits and Events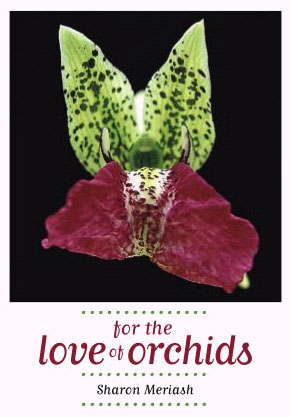 You are invited to the
Opening Reception
of my next photography exhibit
For the Love of Orchids
featuring my unique orchid portraits.
The images will be presented on a variety of surfaces, including canvas, glass, ceramic and traditional photographic papers.
The exhibit is at:
Access Gallery
909 Santa Fe Drive
Denver, CO
In the Santa Fe Art District.
The Opening Reception is
Thursday, August 25th, 6-9PM
So mark your calendars and please feel free to bring friends, family, kids and all lovers of orchids and the arts. I hope to see you there, Sharon Meriash
Ongoing Until September 9, 2005
E-Motion
Featuring new works inspired by music and motion.
July 15 - Sept 9, 2005

Lakewood Cultural Center North Gallery 470 S Allison Parkway (Wadsworth Blvd. & Alameda Ave) Lakewood, CO 303-987-7877
The opening will also include 2 performances by the Denver Percussion Company who's amazing dance and music were the muse for the new images in the exhibit. Visit www.denverpercussioncompany.com for more on this amazing group.
For the Love of Orchids
Featuring Sharon's Breathtaking Orchid Portraits
August 25 - September 23, 2005
Opening Reception: Friday, September 2, 2005 from 6-9 PM.
The opening reception is part of the First Friday Art Walk on Santa Fe Drive.
Access Gallery
909 Santa Fe Drive
Denver, Colorado 80204
(303)777-0797
co@vsarts.org
LIST OF EXHIBITS

Arvada Center
25th Annual Holiday Craft Fair
Thanksgiving Weekend, Nov 26-27, 2004
Fri and Sat: 9 AM - 5 PM
6801 Wadsworth Boulevard
Arvada, CO

Lakewood Cultural Center
Holiday Gift Show & Sale
470 S Allison Parkway
(Wadsworth Blvd. & Alameda Ave)
Lakewood, CO
303-987-7877


Living Large - Botanical Amazons
May 7, 2003 - May 29, 2003
Kirk Norlin Gallery
4430 Tennyson Street
Denver, CO 80212
303-477-1847
www.kirknorlin.com

Water World
Friday, August 6th 5-7 PM
Dairy Center for the Arts in Boulder
2590 Walnut Street - 303-440-7826
A showcase of Sharon's Waterlily images and
exciting new work inspired from her month on the beach.
www.thedairy.org
The Orchid Collection
May 11, 2003 - May 17, 2003
Funky Buddah Lounge
776 Lincoln Street Denver, CO
303-832-5075
www.funkybuddahlounge.com

The 33rd Annual Capitol Hill People's Fair
June 5, 2003 - June 6, 2003
Civic Center Park Denver, CO
www.peoplesfair.com
Victoria and Friends, Confessions of a Nymphaeamaniac
August 6, 2003 - September 10, 2003
Opening Reception: Friday, August 6, 2003, 5-7 PM
The Dairy Center for the Arts
2590 Walnut Street Boulder, CO 80302
303-440-7826
www.thedairy.org
2003 International VSA Arts Festival
"Dare to Imagine"
June 9, 2003 - June 12, 2003
Opening Ceremony: Wednesday, June 9, 2003 Kennedy Center, Washington, DC, 7:30 - 10 PM White House Reception: Washington, DC, Friday, June 11, 2003, The Lincoln Center Union Station Smithsonian Washington, DC
www.vsartsfestival.com