These are various commissioned projects for private individuals.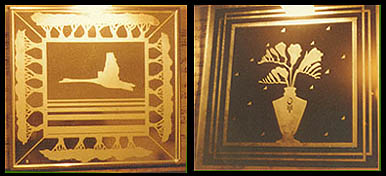 These mirrors were etched using frisket paper and my own patterns. The paper was cut with an Exacto knife and then the whole thing was rollered with an acid paste, then peeled and washed. These are one foot square, and are part of a series of about 15.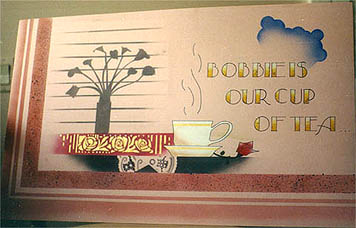 This showcard utilized motifs from the client's house and heirloom glassware.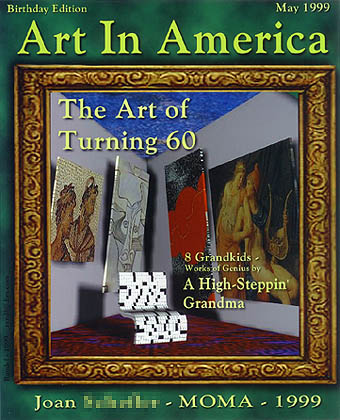 This faux magazine cover was for a woman's 60th birthday party, being held at the Museum of Modern Art in New York City. I was told that she liked crossword puzzles, art, and dancing, and to make it look like Art In America. This was printed on high gloss paper at high resolution and was actual magazine sized, mounted on foamcore.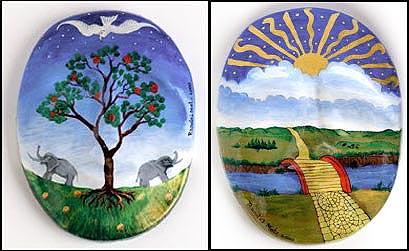 These are part of a series of masks I made for "The Mask Project," a fundraiser for Hospice of Denver. The masks are plaster of Paris, about 8 inches on the long dimension.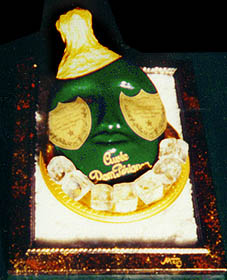 This mask was sold together with a jeraboam of Dom Perignon champagne for $2700 dollars. The fake plastic ice cubes were difficult to find, and utterly convincing. The foil was regular tinfoil, painted glossy gold and heavily varnished. Actual unused Dom Perignon labels were mailed to me from France. Rock salt was glued to the background board, and the frame was a faux antiqued mahogany.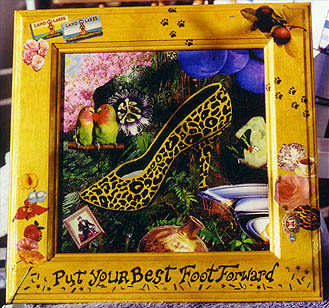 This was a gift, and is about 14 inches square on an ashwood cabinet door. The shoe and other parts are acrylic paint, the rest is decoupage. The snapshot is Marlon Brando. Glitter, stars and moons are at the bottom.