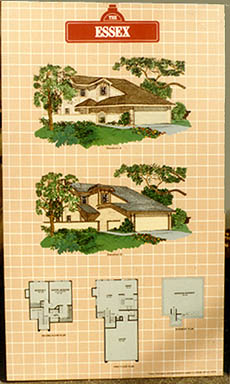 The black lines are always applied last, and are extremely critical. These final detail lines are from screens exposed with photo positives. The panel above was 40" high, and required 29 separate screens and applications of ink. This panel was one of five.
Each new color in a particular project requires a different stencil, or color separation. The color separations for the panel to the left were made using "Rubylith." Rubylith is cheaper than darkroom film, and is cut with an exacto knife in normal light, so was practical. The screens were burned the same way with Rubylith instead of positives.
Making sure everything lines up is called "registration," and this is more critical with every successive color application. A mistake means the board has to be wiped - with laquer thinner - back to the baked enamel, and started over.